Amazon Prime Revolutionizes NFL Thursday Night Football with AI Features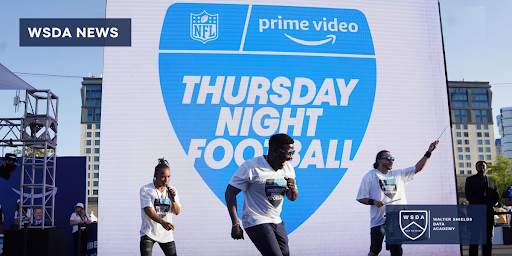 Prime Video, the exclusive broadcaster of Thursday Night Football (TNF), is introducing remarkable enhancements to the viewing experience, offering football enthusiasts an opportunity to engage with the game on a deeper strategic level. These advancements are made possible by a fusion of in-house machine learning and AI capabilities, Prime Video's extensive production and engineering expertise, and the robust infrastructure of Amazon Web Services (AWS).
Throughout this season, football fans can embrace these AI-powered features, with a primary focus on TNF's weekly alternate stream designed to enrich the live NFL experience, known as "Prime Vision with Next Gen Stats."
Next Gen Stats, driven by AWS, deliver a trove of valuable insights by capturing real-time data related to player location, speed, and acceleration for every athlete on the field. Concealed tags within each player's shoulder pads are tracked by sensors installed throughout the stadium. However, the challenge lies in sifting through the vast amount of data generated by each game.
Julie Souza, Head of Sports, Global Professional Services at AWS, noted, "We're accumulating over 300 million data points per season. This extensive dataset fuels our machine learning models, enabling us to extract fresh insights from every game. These insights enhance our understanding of the sport, which we then share with our viewers."
On "Prime Vision with Next Gen Stats," this data becomes tangible in real-time, as viewers are presented with on-screen graphics that depict game developments and furnish captivating metrics, drawing fans closer to the sport they cherish.
In addition to Next Gen Stats, Prime Video offers remarkable AI-powered features to enhance the viewing experience:
1. Key Plays: This innovative feature allows fans to access in-game highlights and pivotal moments on demand while watching TNF on Prime Video. As the game unfolds, a collection of crucial moments accumulates, granting viewers immediate access to a comprehensive rundown of the game's action.
2. Rapid Recap: The Rapid Recap feature provides viewers with a quick summary of the game's most important events and highlights, compressing the key moments into a concise and engaging recap. It offers a convenient way for fans to catch up on the game's highlights and major plays.
3. X-Ray: Prime Video customers are already familiar with X-Ray, an exclusive feature that allows viewers to explore layers of information, such as actor bios, photos, filmographies, and character backstories. While watching TNF, fans can use X-Ray to track advanced Next Gen Stats powered by AWS, watch on-demand replays enhanced with player-performance metrics, get team and player info, shop official NFL merch, and even predict the outcome of the game with Fan Polls.
These AI-powered features not only elevate the experience of watching TNF but also cater to the desire of dedicated fans for deeper engagement and insight into the game they love. Betsy Riley, Senior Coordinating Producer at Prime Video, emphasizes their commitment to delivering comprehensive storytelling and additional insights to hardcore football enthusiasts.